US warns Israel against prolonged occupation of Gaza.
Obama cautions Israel not to alienate generations of Palestinians.
Hamas releases two more hostages as families call for ceasefire.
---
As Israel Defence Forces (IDF) prepare for a ground invasion of Gaza, US Marine Corps Lt Gen James Glynn, ex-commander of Marine Forces Special Operations Command, is set to counsel the Israeli forces on their current operations, according to a US official familiar with the matter.
The US official, who broke the news, revealed that Glynn, the deputy commandant for Manpower and Reserve Affairs, can offer advice on the "big picture" surrounding the Gaza conflict.
With decades of experience, including commanding Marine Forces Special Operations Command (MARSOC) and combat experience in Iraq.
National Security Council spokesperson John Kirby would not confirm Glynn's position when asked whether Glynn would be advising the Israelis.
Instead, Kirby told reporters Monday that the Biden administration had sent to Israel "a few relevant military officers" who had "the kind of experience that we believe is appropriate to the sorts of operations that Israel is conducting and may conduct in the future."
Kirby said these officers would also "ask the hard questions, the same hard questions that we've been asking of our Israeli counterparts since the beginning."
The US official said this included questions about how Israel planned to avoid civilian casualties, a number that has soared as the IDF bombards the coastal enclave, CNN reported.
Glynn is not the most senior US officer to visit Israel since the Hamas attack on October 7.
The commander of US Central Command, General Michael "Erik" Kurilla, visited Israel last week and met with senior Israeli military leaders.
Glynn's role is separate from the special operations forces sent by Defence Secretary Lloyd Austin to assist Israel with intelligence and hostage rescue efforts. It is unclear when Glynn arrived or how long he is expected to stay.
As the US and its allies have urged Israel to be clear about its goals in Gaza if and when it launches a broader operation targeting the coastal enclave, the US has warned against a prolonged occupation of Gaza.
The US has also placed a particular emphasis on avoiding civilian casualties, US and Western officials told CNN. US officials don't yet have a clear sense of Israel's intentions in Gaza and believe it will be difficult for Hamas to be eradicated entirely.
Israeli officials have publicly stated their goal is to eliminate Hamas and its infrastructure, while in private discussions, they have not tried to prevent Israel from using ground forces in Gaza.
The US emphasises the need for clear objectives in degrading Hamas and avoiding a long-term occupation of the Gaza Strip.
Israel prepares for 'unrelenting attacks'
Israel's military said it was preparing for "unrelenting attacks" to dismantle Hamas while former US president Barack Obama warned that "any Israeli military strategy that ignores the human costs could ultimately backfire."
According to the Gaza health ministry, over 5,000 Palestinians have been martyred, including more than 2,000 children, in two weeks of Israeli air strikes in response to Hamas' October 7 attack on southern Israel in which the group killed more than 1,400 people in Israel.
Israel pounded hundreds of targets in Gaza from the air on Monday as its soldiers fought Hamas fighters during raids into the besieged Palestinian strip where civilians have been held captive.
Obama cautions Israel against civilian casualties
In a rare commentary on a foreign policy dilemma, Obama, a former US president, cautioned Israel not to alienate generations of Palestinians by causing so many civilian losses in retaliation against Hamas.
"Any Israeli military strategy that ignores the human costs could ultimately backfire. Already, thousands of Palestinians have been killed in the bombing of Gaza, many of them children. Hundreds of thousands have been forced from their homes," Obama said in a statement posted on social media.
It was not immediately clear whether Obama coordinated his statement with Biden, who was his vice president. The White House did not immediately respond to a request for comment.
"The Israeli government's decision to cut off food, water and electricity to a captive civilian population threatens not only to worsen a growing humanitarian crisis," he added.
"It could further harden Palestinian attitudes for generations, erode global support for Israel, play into the hands of Israel's enemies, and undermine long-term efforts to achieve peace and stability in the region," he wrote in the statement published in Medium also condemned Hamas' attack and reiterated his support for Israel's right to defend itself.
Hostage families face dilemma as Gaza invasion looms
Families of hostages seized by Hamas are urging the Israeli government to stop the war effort and negotiate their release.
They warn that mediation could take years and their best hope lies with the military, hoping ground forces can find the missing men, women, and children before it's too late, Reuters reported.
Hamas fighters took an estimated 222 people aged from 9 months to 85 years during their October 7 attacks, during which they also killed 1,400 people. Many of those taken hold dual nationality, including many with US and European passports.
The hostages are believed to be hidden in the Gaza Strip, possibly in a warren of tunnels Hamas has built beneath the enclave, even as Israeli warplanes pound the territory ahead of a threatened invasion.
Prime Minister Benjamin Netanyahu has vowed to eliminate Hamas and Israeli troops could enter Gaza at any moment, but many families are urging him to focus solely on the hostages.
Family support groups are holding daily protests outside Netanyahu's office in Tel Aviv to keep the fate of the captives in the spotlight, and have set up a table with a place setting for each missing person in a city centre square as a symbol of the plight of those abducted.
On Sunday, President Isaac Herzog met scores of affected relatives at his Jerusalem residence, while outside, hundreds demonstrated calling for more to be done for the hostages.
"Revenge is not a plan," read one banner held up by Carmel Gorni, a political activist whose cousin, Yiftah Gorni, was killed during the Hamas attack.
"We need to talk to Hamas. We can't always resort to war. We have so many Palestinian prisoners we can swap for our people," Gorni said. "If our soldiers go in, many people will die, including the hostages."
Hamas releases two more hostages
Hamas on Monday freed two Israeli women among the more than 200 hostages taken during its October 7 attack. They were the third and fourth hostages to be released.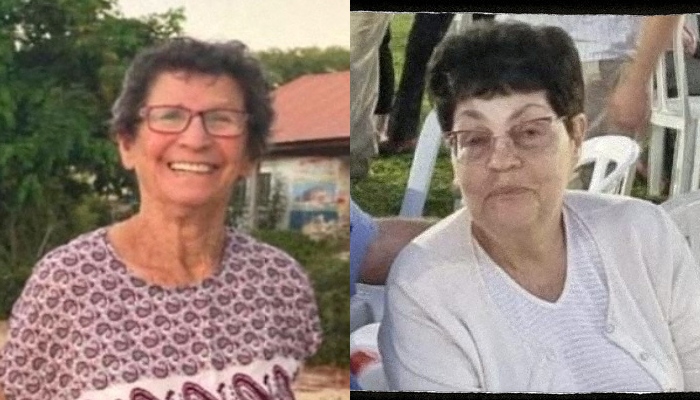 According to Reuters, Israeli Chief of Staff Lieutenant General Herzi Halevi issued a statement suggesting that Israel had no intention of curbing its strikes on the densely populated Gaza Strip and hinting that it was well prepared for a ground assault.
"We want to bring Hamas to a state of full dismantling," Halevi said late Monday.
"The path is a path of unrelenting attacks, damaging Hamas everywhere and in every way. We are well prepared for the ground operations in the south," he added, referring to southern Israel, which abuts Gaza. 
"Troops who have more time are better prepared, and that is what we are doing now."
In public, the US has stressed Israel's right to defend itself but two sources familiar with the matter said the White House, Pentagon and State Department have stepped up private appeals for caution in conversations with the Israelis.
A US priority is to gain time for negotiations to free other hostages, said the sources, who spoke before the hostage releases were announced on Monday.
Asked about the possibility of a ceasefire, US President Joe Biden said: "We should have those hostages released and then we can talk."