The youngest Nobel Peace Prize laureate Malala Yousafzai sure turned heads as she stepped onto the golden carpet at this year's Academy Awards with her husband by her side. The 25-year-old Pakistani activist stunned in a custom silver sequinned Ralph Lauren gown with an attached headscarf and a red pout.
Her better half, Asser Malik, opted for a dark tuxedo with a white shirt. Malala attended the film's biggest awards as the executive producer for the Oscar-nominated short documentary, Stranger at the Gate. In addition to her advocacy work, Malala has also been involved in producing films that promote education and social justice. Her Oscar-nominated documentary short is just one example of the powerful storytelling that she has brought to the screen.
"It is such a powerful message about the power of compassion and kindness and forgiveness," she told reporters on the red carpet before the ceremony. "And this is something that anyone can relate to, from any corner of the world."
She took to social media to share glimpses from the coveted event and it does seem like she had a ball! "It was all a dream," Malala shared on Instagram as she posted a carousel of pictures from the Academy Awards 2023. The renowned activist went on to divulge her Ralph Lauren number, and surely it represented a cause close to her. "I wanted my dress to represent the message of our film, Stranger at the Gate, and embody hope. Thank you so much to the brilliant team that helped bring my vision to life."
She went on to add, "I was proud to represent this amazing documentary with the director, Joshua Seftel, producer Conall Jones and the film's inspiring subjects Bibi and Mac. And, as always, I was delighted to spend the night with my husband Asser Malik, looking handsome as ever in his tux."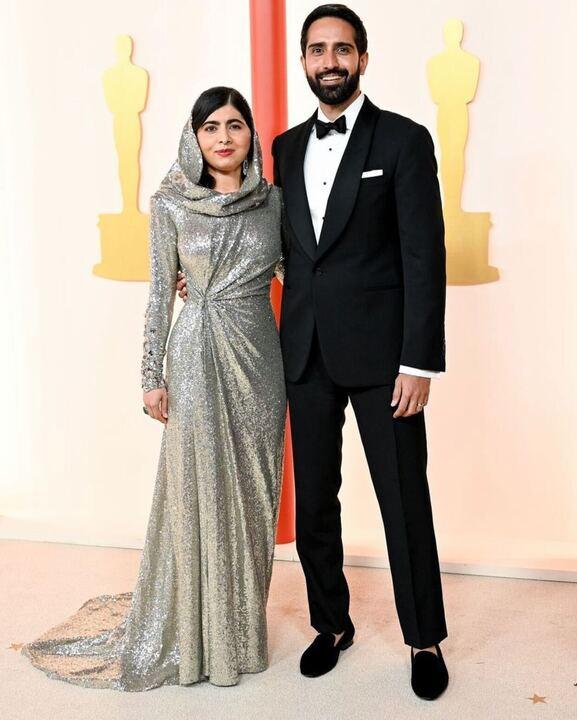 Malala was lauded for her gorgeous outfit and how she represented Pakistan on a global stage. "Nothing. Just Malala stealing our hearts away," a user penned.
Another added, "Not our baby Malala looking like an actual knight in shining armour."
'Speak for peace'
While seated among Hollywood's royalty, Malala was approached by the host of the night Jimmy Kimmel. The renowned host left many puzzled after he asked a rather bizarre question to Malala at the Oscars 2023 segment. The host became the butt of the jokes after he approached the producer during a break in proceedings and asked her an awkward question about Harry Styles and Chris Pine's 'spit-gate' drama.
The presenter read out a question from a fan named Joanne, saying, "She asked, your work on human rights and education for women and children is an inspiration–as the youngest Nobel prize winner in history, do you think Harry Styles spit on Chris Pine?" To this, Malala responded, "I only talk about peace." A breezy Jimmy retorted, "You know what, that's why you're Malala and nobody else is. That's a great answer, Malala. The winner is 'Malala-land', everybody."
Many took to Twitter to express shock over Jimmy's 'corny' question. "Jimmy Kimmel get away from Malala!" a user tweeted.
Another added, "Full offense. Malala was shot by the Taliban in her face and she has an Oscar-nominated documentary and is the youngest Nobel prize winner. You're asking her about *reads notes* spit-gate?"
full offense malala was SHOT by the taliban in her FACE and she has an oscar nominated documentary and is the youngest nobel prize winner and you're asking her about *reads notes* SPITGATE?????

— arya (@dilfrrie) March 13, 2023
Another user opined, "Why the hell did Jimmy Kimmel go up to Malala, make that corny Chris Pine and Harry Styles joke and then call her Malala land? What is wrong with this man."
However, Malala, while addressing the said snafu, remarked, "Treat people with kindness."
Among the stars
Malala also went on to meet some of the biggest names in the entertainment industry. Taking to Instagram, she shared a picture with none other than Grammy-winning artist Rihanna, who was also an Oscar nominee for her song Lift Me Up, featured in Black Panther: Wakanda Forever. "Always love meeting royalty," Malala wrote as she posted a picture of her interacting with the Diamond singer as her Asser looks in admiration.
Malala, in a separate story, took a jibe at her husband and penned, "Someone was jealous."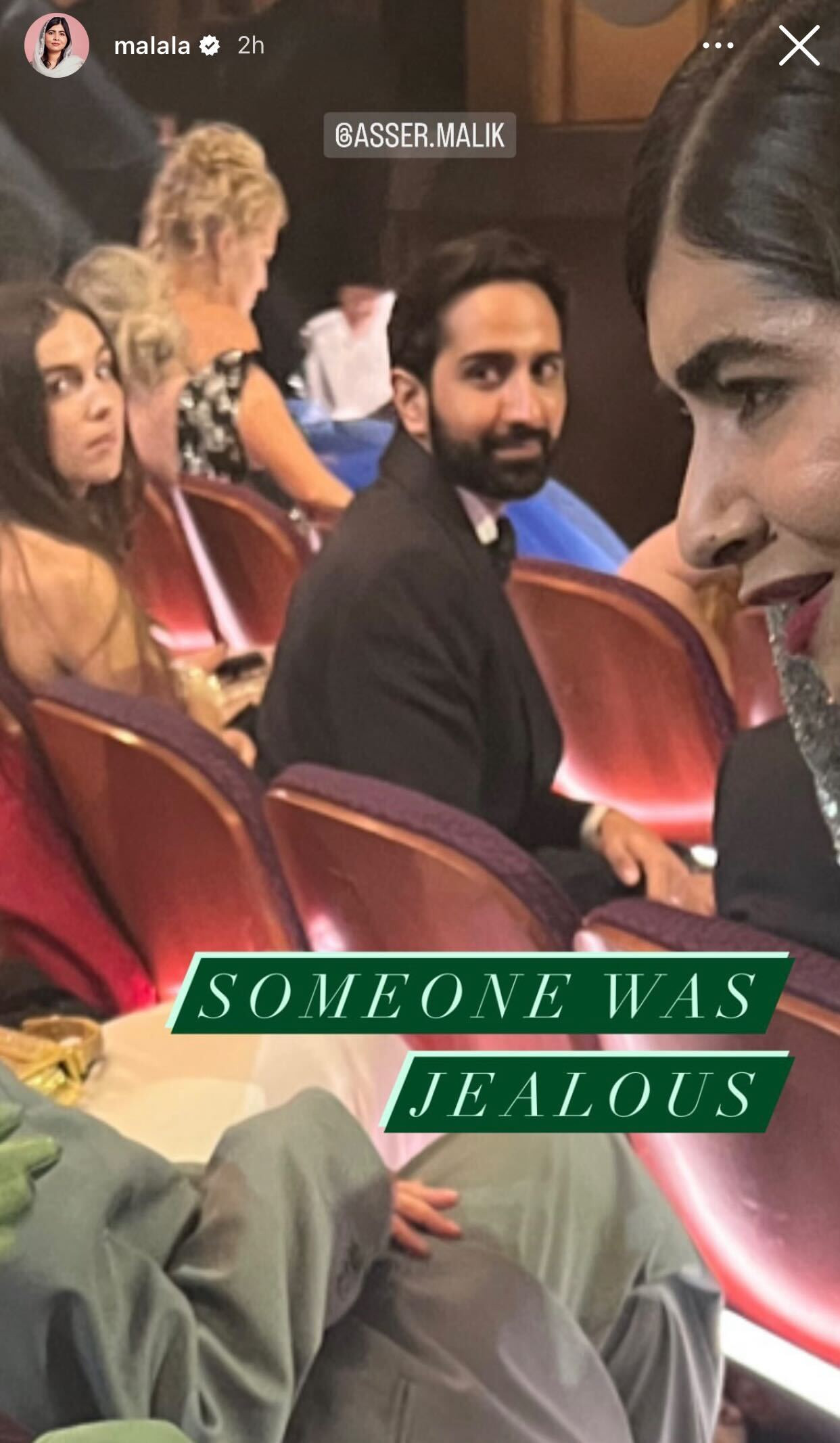 She then posted a picture of her meeting the iconic Ford Harrison! "What an honour," Malala remarked.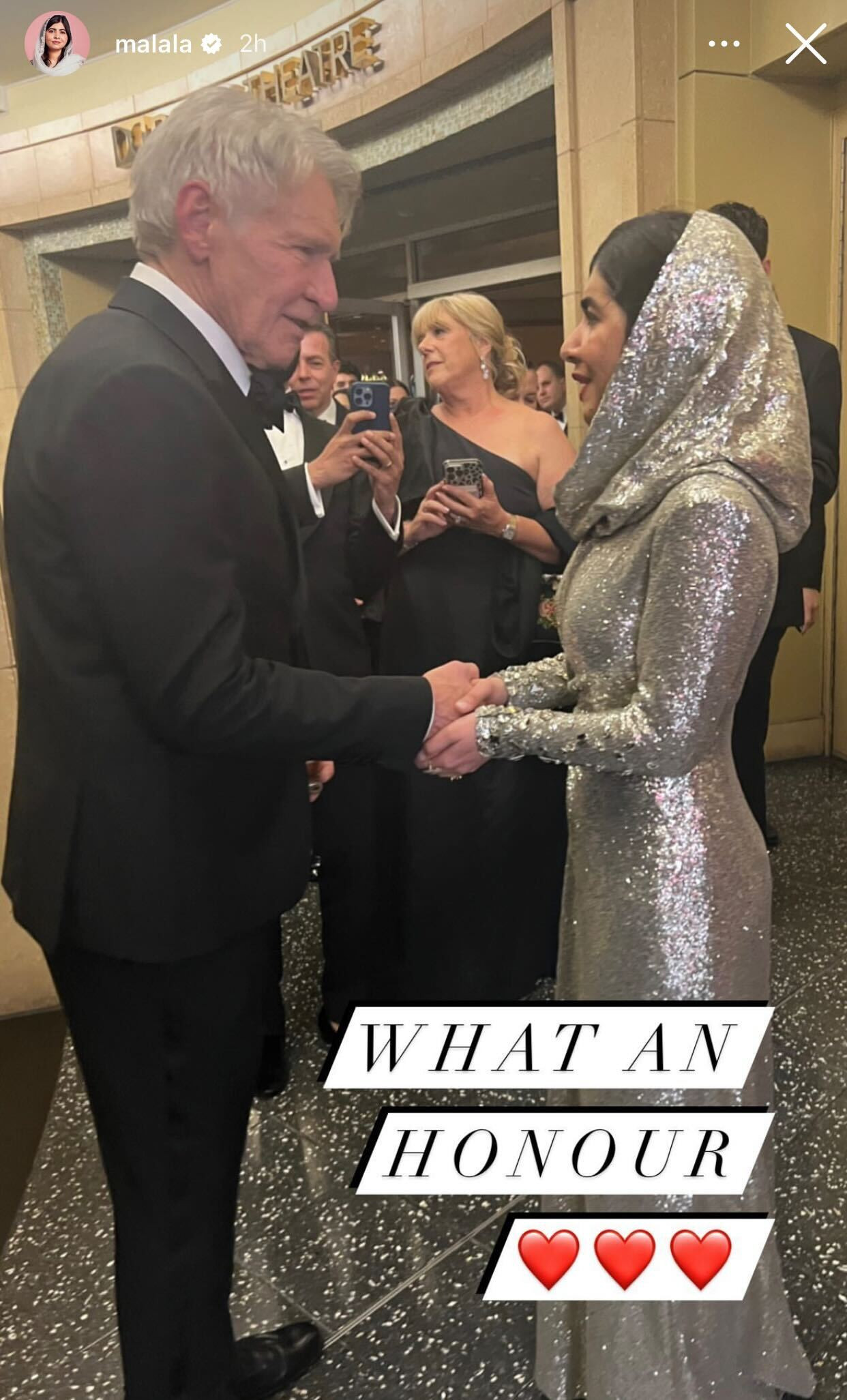 At the pre-Oscar party, Malala was seen in an ivory figure-hugging gown as she posed with celebrated star, Salma Hayek. The latter took to Instagram and shared a picture with the activist ahead of the big night.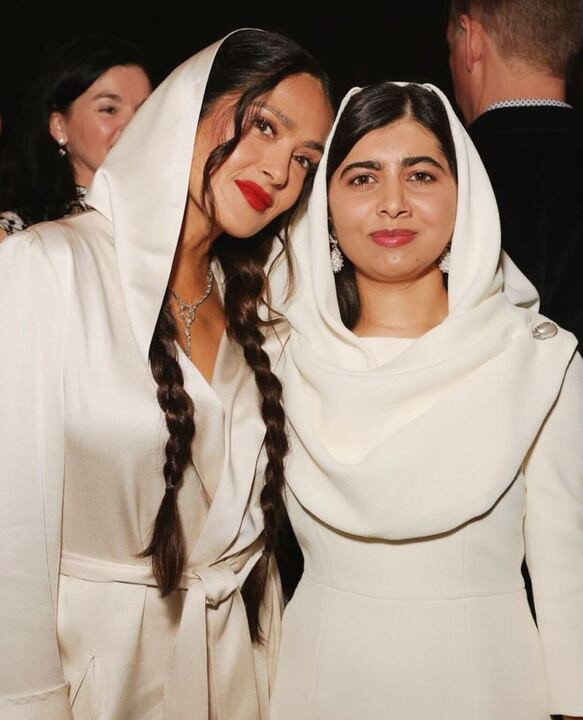 Celebrating South Asian Excellence
Bollywood icon Priyanka Chopra and The Office star Mindy Kaling hosted a South Asian Excellence party ahead of the Oscars 2023 in Los Angeles recently to celebrate the achievement of all nominees who made it to the Academy Awards this year.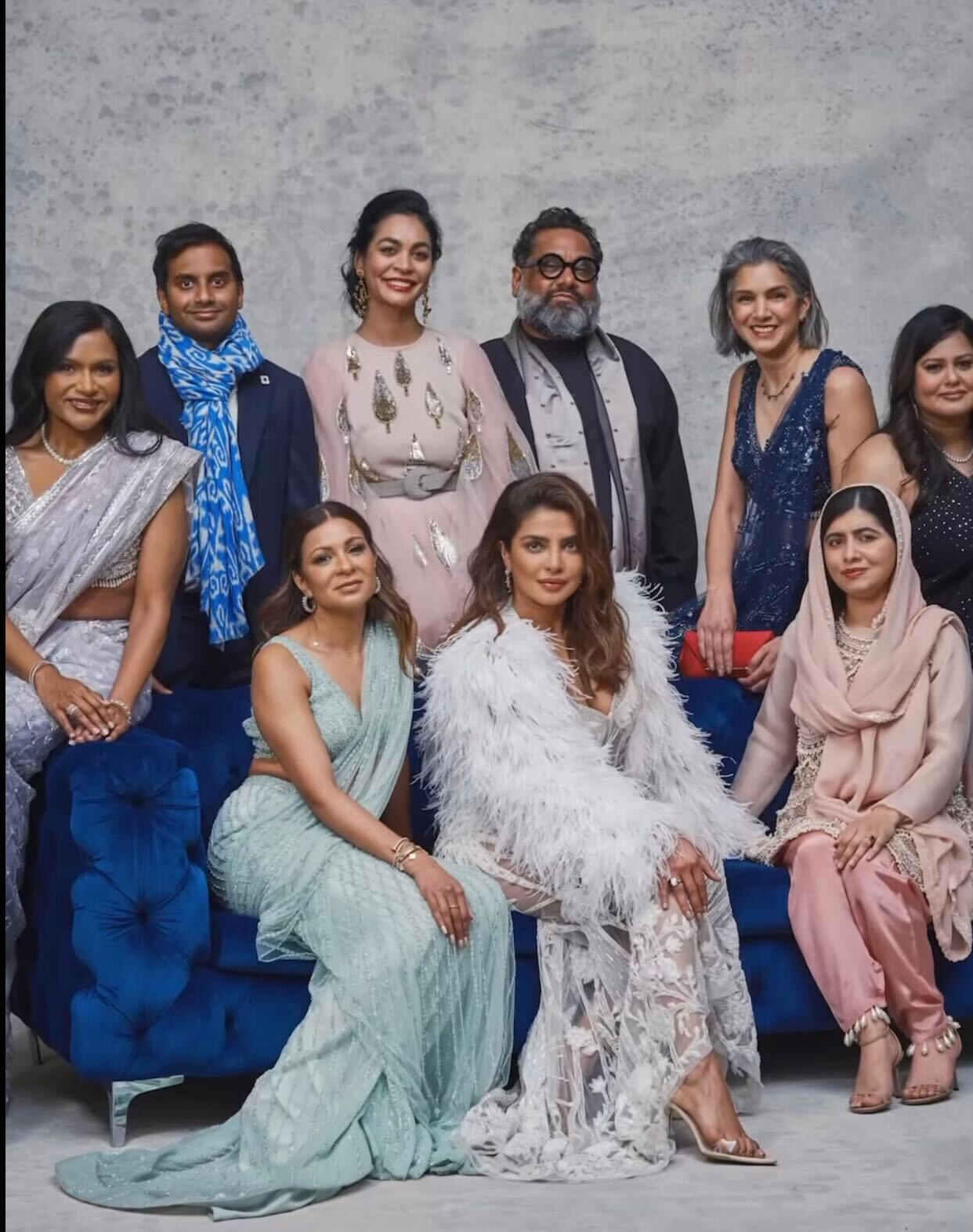 The pre-Oscars party saw a myriad of Pakistani stars in attendance including the Joyland team Saim Sadiq, Alina Khan, Apoorva Guru Chara, alongside filmmaker Sharmeen Obaid Chinoy, singer Ali Sethi, actor-director Riz Ahmed and more.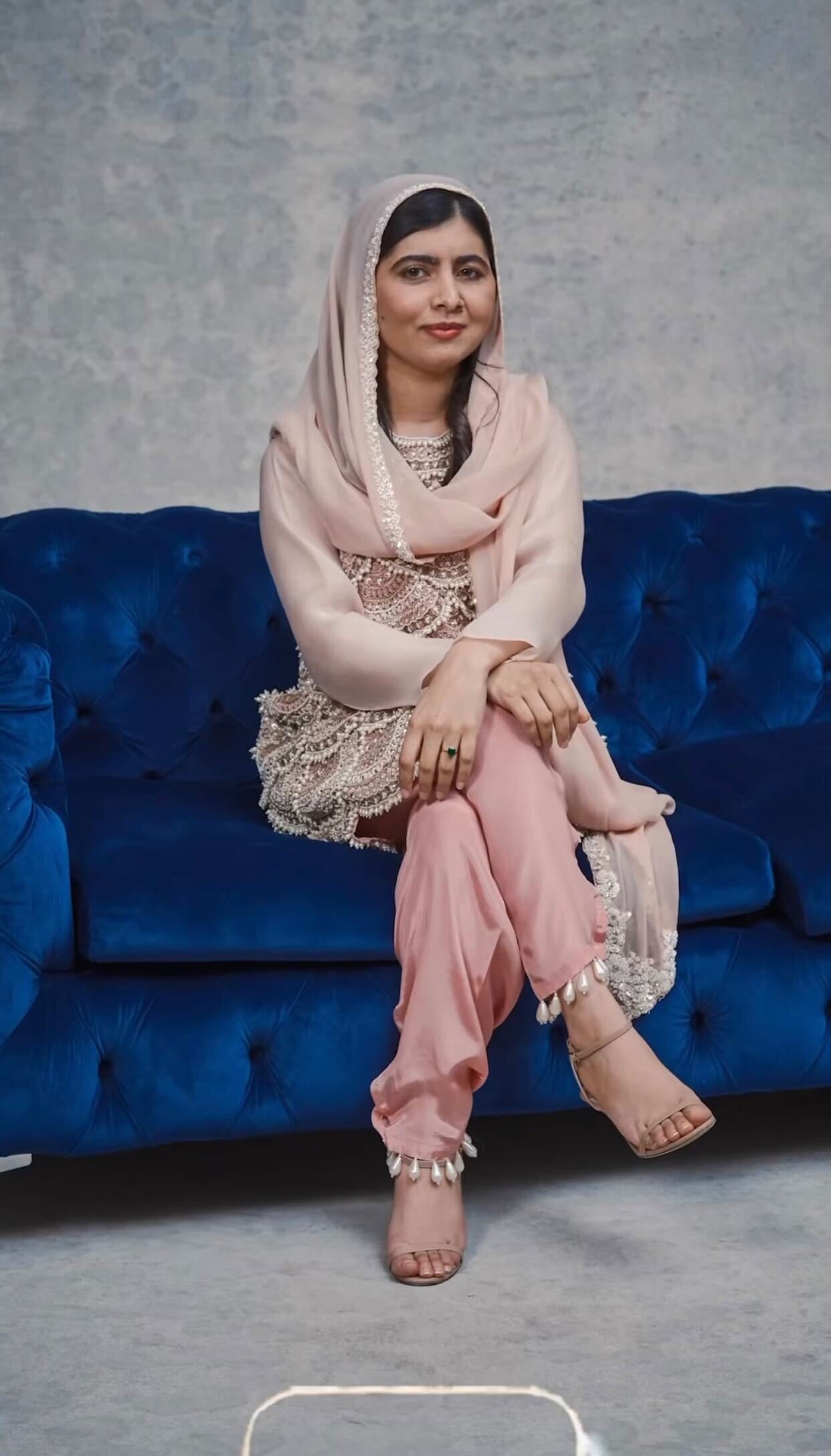 Malala and Asser were in attendance as well. Asser uploaded a picture on his Instagram Story from the party featuring the "Pakistani gang" that included Tan France, Maheen Khan, Rasti Farooq, and Ali Junejo as well.
Have something to add to the story? Share it in the comments below.