This year saw women, transgenders, non-binary folks and male allies gather at Burns Garden to voice their demands

KARACHI:

The harsh scrutiny online, the baton charges in Islamabad, the anti-feminist marches last year, and the continuous threat to life haven't stopped women in Pakistan from leaving their homes to fight for their rights, and for what is meant to be theirs but is not given solely because of their gender. Despite the anxiety that permeates the air every year, the unity on the long road to freedom feels cathartic and exhilarating – even if for a day.
Aurat March, which is now an annual Women's Day ritual in the country, took place in Karachi this year on March 11, a Sunday, instead of March 8 – to be more considerate of the labour class and their participation. The event, which started from Frere Hall in 2018, moved to Jinnah Ground last year to be more inclusive of all classes and social strata. This year saw women, transgenders, non-binary folks and male allies gather at Burns Garden to voice their demands.
Participants chanted for the end of patriarchy, the right to live without an apology, to not be abused and harassed, and to have equal opportunities to thrive in life. The organisers arranged a long white cloth, almost as big as the size of the crowd, with the words "tumhara zulm yaad rahega (Your oppression will be remembered)" etched on it. Protestors dipped their hands in red paint and inked the whole cloth to remember people who've lost their lives in the name of honour, and those who continue to suffer because of the same. The cloth, representing the rage and terror women face every day, was then burnt at a busy chowk during the march.
Sheema Kermani, one of the founding members of Aurat March, spoke to The Express Tribune about the theme for this year's protest in Sindh. "The theme for this year's march is poverty and how it affects women in society. When there's hunger and a lack of food and resources, it not only affects a woman's physical health but also deteriorates their mental health and simultaneously affects her whole household," she said. "We demand to end hunger, to end poverty and in my opinion, it is very possible."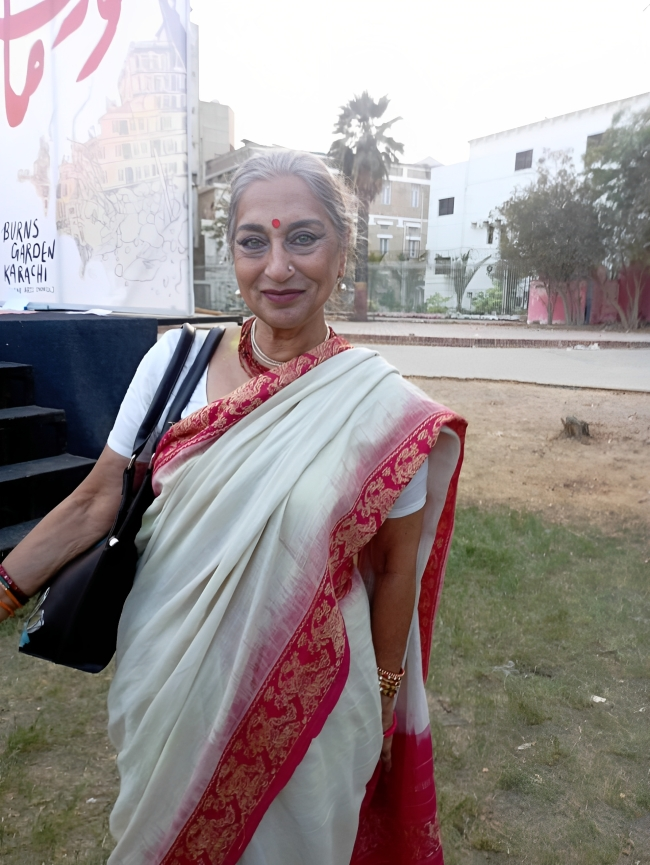 Kermani asserted that the organising team wants women to be seen in all areas of Karachi. "It is important that we keep changing our venues so the whole city can see women coming out, not just one area. We'll keep trying bigger and better grounds to create space for everyone who wishes to join."
Actor Mira Sethi was also spotted at the event, mingling with the crowd and addressing crucial problems to the media personnel. "It's been six years since Aurat March was initiated and as always, I'm here because I'm always delighted to see all my brothers and sisters from all walks of life gather in one place to celebrate women and fight for their rights," shared the Kuch Ankahi actor.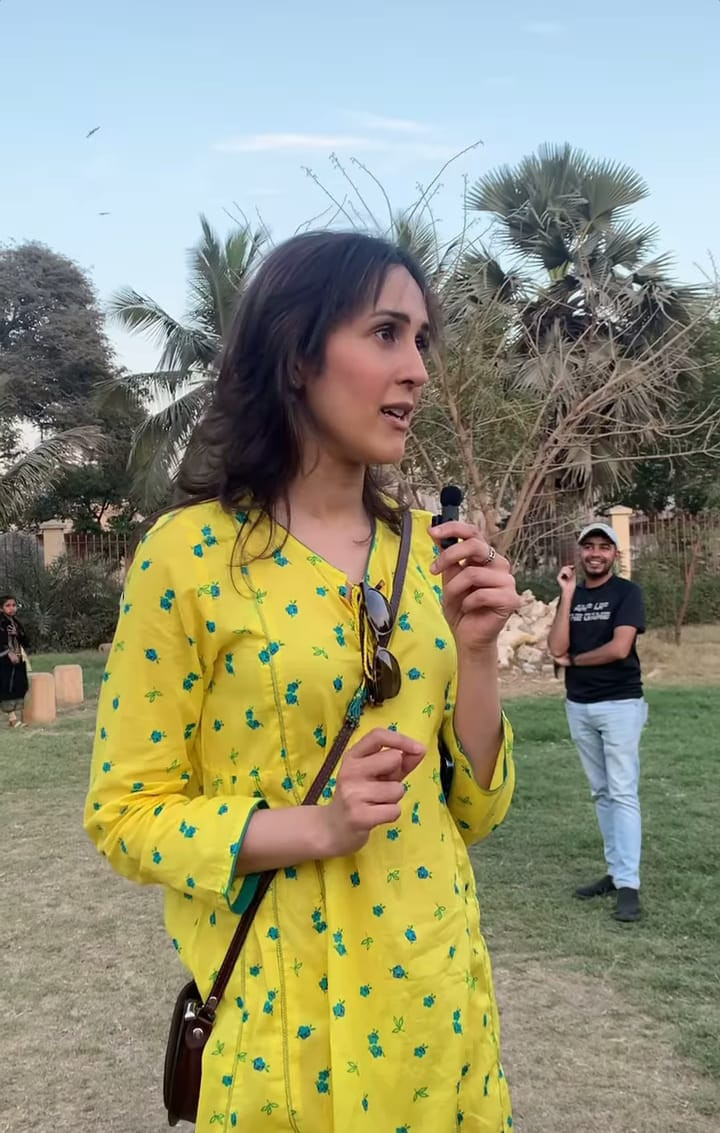 "I just have one question for all the people who criticise this event, why are respect and honour only associated with a woman? Our country has numerous other pressing matters, such as rising inflation and debt, at hand. But whenever you turn on the television, the debates surrounding culture just focus on a woman's integrity and her outfits. And that is why I am marching today."
Influencer and content creator Amtul Baweja was marching for "equal pay and equal opportunities" this year. She told The Express Tribune that "an economic crisis starts off with the fact that women do not get opportunities for jobs. Companies prefer men over women assuming that women will get married and have kids, completely disregarding their skillset and talent. It's so problematic."
She lamented how even when women get jobs, their pay isn't the same as men. "Secondly, we don't get equal pay. We've seen our male colleagues get more pay. Women don't get promotions easily. We need equal pay and equal opportunities and I hope this change comes soon!"
Speaking about the charter of demands for this year, organiser Dhuha Alvi said, "We are talking about forced conversions, protection and safety of women from domestic violence, the availability of shelter homes, and the lack of funds for women's security provided by the government. At this march, we also stand for the people impacted by the devastating floods in Pakistan, who are currently starving and living without proper residences."
"Come, narrow-minded folks, see the massive crowd here," began Bindiya Rana, "you say other countries are flourishing and we are behind, going through a financial crisis? That's because, in other countries, women, men and the khwajasira community are all equals and walk the earth with the same rights. Remember that this nation is suffering due to the corruption and mismanagement of its people."
She then praised all the women who still attend Aurat March, regardless of the libel they encounter online. "I salute all the people who are here despite facing severe criticism and slander on social media platforms. People say all we do here is chant slogans like, 'My body, my choice,' I say that it's my body and my creator's choice and he has given me the right to be myself, not be a slave and be free. If not now, then soon you will be forced to question yourself and realise the truth of it all."
Although Aurat March in other cities such as Lahore and Islamabad was met with clashes and numerous hurdles, the street rally in Karachi went smoothly. The primary reason for this could be the new location and the ban of YouTubers, whom Aurat March Lahore accused of creating "violence" this year.
Kermani also had a message for the people who do not approve of the march. "Having differences is a good thing. We don't have any issues with people who have dissimilar views. However, disagreements should not turn into violence and killing, they should remain as pleasant topics to debate. I want to live in a world where we can disagree without disrupting harmony."
Perhaps that is also why women continue to march and reclaim their right to the streets. To keep everyone safe, to remind women how it feels to walk the streets again and belong to a world with no leering, threatening chants, cat callings, and a space where they can truly feel human.
Have something to add to the story? Share it in the comments below.