Actor Ushna Shah has elaborated on her tweet pertaining to late actor Qavi Khan not receiving a single life-time achievement award from the TV industry before his passing. The Habs star recalled being heartbroken to find out that he was, in fact, expecting to be awarded by those he worked with, and hoped for her peers to do better.  
"Sigh! I can't believe I have to break this down actually," wrote Shah in an Instagram Story. She started off by clarifying that she had tweeted about the awards presented by private TV channels, not the civil awards that are presented by the government of Pakistan annually. "The drama industry is privatised, as are the awards," she noted.
"And it did not give the life-time achievement award that he was heartbreakingly expecting. Qassim Mureed, Mussadiq Malik, and a few others know of this expectation. And it broke my heart to hear of it too," added Shah. The Parizaad actor acknowledged that while Khan "lives on as the greatest and nothing can change that, the last drama industry award he received was when Feroze [Khan] brought him up on stage and shared his award (I might be mistaken)."
Shah assured that she isn't taking "a jibe at anyone or any establishment." But when she heard that he had hoped for the same before his passing while speaking to a colleague, it broke her heart and she tweeted about it. "I tweeted out of love for him," she expressed. "I questioned us, the current, standing, privatised drama industry and all the award shows that come with it, and urged us to do better. It's an unfortunate oversight and only when we recognize these oversights can we fix them in the future."
To conclude, she asked, "What is so terrible about this?"
Earlier, Shah had tweeted, "I have a question for the Pakistani drama industry: How many lifetime achievement awards did Qavi sahab receive before he passed? I have a question for the audience: How many did he deserve? RIP Sir, we are sorry."
In a follow-up tweet, she wrote, "Qavi sahab has (rightfully) received many national, civilian accolades. I questioned my fellow drama industry, which is privatised now. Let's give our legends their flowers while they're here. As an industry we can always, always do better, myself included."
To this, actor Rabya Kulsoom commented in a now, unavailable tweet, "Factcheck: Sitara-e-Imtiaz, Pride of Performance, Nigar Awards and PTV Award. [He received] millions of nominations and other recognitions. He was a legend and thankfully, he was respected and treated like a legend always on and off the sets."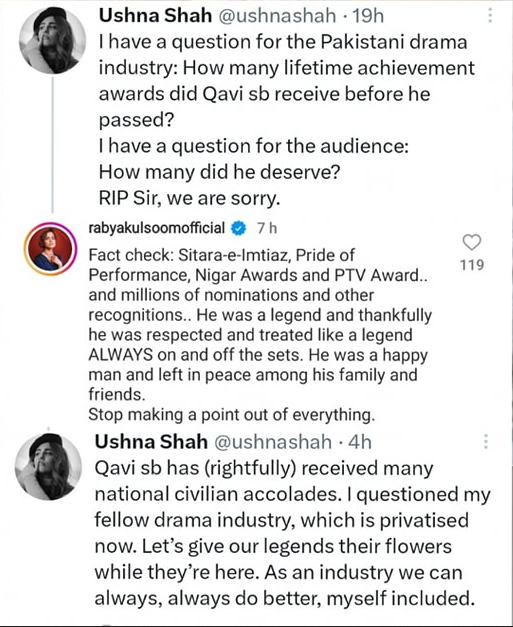 Kulsoom had added rather spitefully, "He was a happy man and left in peace among his family and friends. Stop making a point out of everything."
When Khan passed, Shah, newly-married, mourned the loss of her "uncle" on social media. "It was always a dream to work with Qavi uncle," she had tweeted. Remembering how Khan was a "highly respected and loved member of the fraternity," she added that he may have passed, but his "legacy will live on."
Khan passed away on March 5, 2023. 
Have something to add to the story? Share it in the comments below.