Pakistan skipper Babar Azam took to Twitter to share a video of him riding a heavy bike through the streets of Lahore, leaving fans starstruck.
Azam shared the video with the caption "Ready, set, GO!".
With over 2000 retweets and hundreds of comments, one can safely say the video is going viral, winning over fans from across the country. 
Twitter reacts 
Tweeps obviously rushed to share their two cents seeing their favourite cricketer on a motorbike. 
While some were impressed, complimenting his skills, others were concerned about his safety. 
1. "Force to be reckoned with" 
2. "Wah"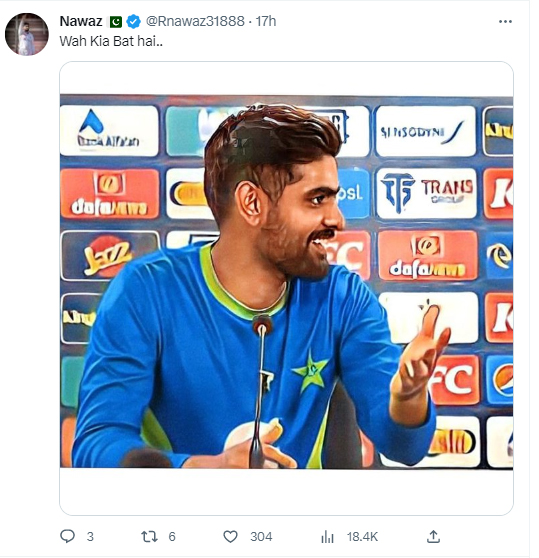 3."Take care of your self"
4. "Very precious" 

5. "Not more than 20kms"
What is Babar Azam up to?
Babar was roped in by Lanka Premier League (LPL) franchise Colombo Strikers for this year's event on Tuesday.
Baabr was among the direct signings for the event ahead of the auction on June 11.
The fourth edition of LPL will be played from July 31 to August 22. The five-team tournament will be held at three venues, likely to be Hambantota, Colombo and Kandy.
The in-form Babar — one of Pakistan's most successful captains — will also lead the national team till the 2023 World Cup to be held in India in October.
Though the Pakistan Cricket Board (PCB) has yet to make the official announcement, it was learned from well-informed sources that the Board's think-tank — comprising Management Committee Chairman Najam Sethi, chief selector Haroon Rashid and Director Coaching Mickey Arthur — has unanimously decided to repose trust in Babar as the captain of the team till 2023 World Cup.
 Besides leading the team in the World Cup, he will also be seen captaining the team in all series and events in the run-up to the mega event.
These include the two Test match series against Sri Lanka, three-match ODI series against Afghanistan and Asia Cup to be hosted by Pakistan in September.