Standing in a Tennessee museum, near exhibits of shimmering dresses worn by Tina Turner, Lisa Lyons wiped tears from her cheeks as she remembered the impact the singer and actor had on her life.
Lyons recalled watching Turner's performance in the film "Mad Max Beyond Thunderdome" as Auntie Entity, the tyrannical leader of a post-apocalyptic civilization.
"She was fierce, and she was strong, and she was powerful, and that has stayed with me," said Lyons, who, like Turner, is Black. "As a little girl of color who didn't have that type of role model in real life, it has stuck with me all these years."
Turner, 83, died Wednesday, after a long illness in her home in Küsnacht near Zurich, according to her manager. Her Grammy-winning singing career includes the hit songs "Nutbush City Limits," "Proud Mary," "What's Love Got To Do With It" and "We Don't Need Another Hero," from "Mad Max Beyond Thunderdome." Her film credits also include "Tommy" and "Last Action Hero."
Lyons, 56, said she heard about Turner's death on Wednesday and drove to the Tina Turner Museum in Brownsville, west of Jackson, where Lyons lives. When it comes to her musical legacy in a region known for its blues, rock and roll, R&B and soul music, Turner was the "cream of the crop," Lyons said.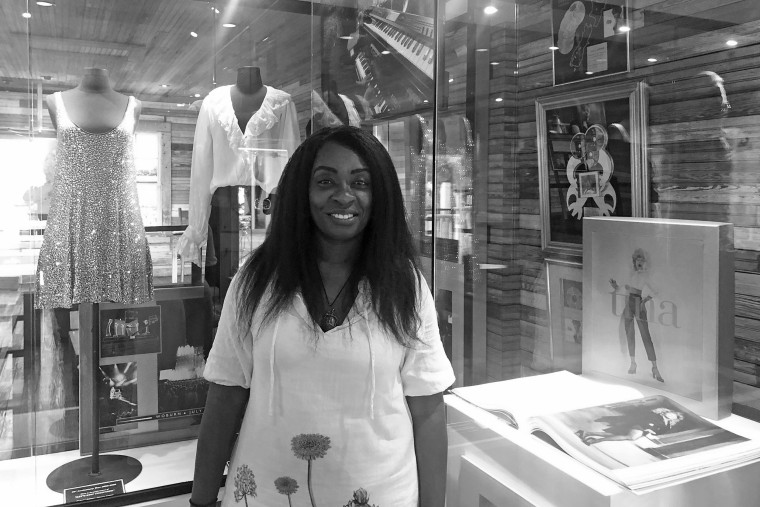 "She is the standard. She is the goal to aspire for," Lyons said. "She did it and she did it well, and she did it on her own terms."
The museum opened in 2014 inside the renovated Flagg Grove School at the West Tennessee Delta Heritage Center in Brownsville, about 50 miles northeast of Memphis. Turner attended school in the one-room building as a child growing up in nearby Nutbush, one of the small, rural towns that dot the farms and fields of West Tennessee.
The museum contains a setup of the classroom, including the original blackboard and wooden desks used by Turner and her fellow students. It also contains photos of Turner, and the Armani, Versace and Bob Mackie dresses Turner wore on stage during the energetic performances for which she was known.
Lyons was among swaths of fans who visited the Tennessee museum on Wednesday to pay their respects. In other cities around the globe, others flocked to areas associated with the singer. 
Flowers and candles quickly appeared outside Turner's Switzerland home after news broke of her death on Wednesday. A large crowd gathered to place flowers, candles, and messages for the rock star, with one that read "You're simply the best."
One local, Ozgur Arzik, said he lives in the area and grew up with Turner's sons. "I was always listening to her songs and I'm really sad that we lost her," he said. "I just wanted to be here."
Meanwhile, oceans away, fans in Missouri gathered at Turner's star on the St. Louis Walk of Fame, according to KTVI, in the city where Turner attended high school and got her start in the music industry. On Wednesday, fans surrounded the Delmar Loop star, laying flowers and paying their respects. One man, John from nearby Claremont, told KTVI he was visiting St. Louis when he learned of Turner's death. So, he headed straight for the monument to the singer. 
"I think it's comforting knowing she left her mark on the world and that's something that's lasting beyond her life," he said.
Dallas fans of Turner didn't have a Walk of Fame star or an estate to serve as setting for a memorial on Wednesday. But they did have the Lorenzo Hotel, the place where Turner found safety after fleeing from her abusive husband Ike Turner at a nearby hotel in 1976.
Today, the Lorenzo, formerly a Ramada Inn, has a memorabilia-filled room dedicated to Turner. Alvarene Owens was one of several plans who went to honor the rock legend.
"She was an overcomer," Owens told CBS News. "She went through a horrendous struggle with [her] husband and she just had to break loose and this hotel is emblematic of that."
Whether it be Turner's home near Zurich, a star in St. Louis, or a hotel in Dallas, fans are finding special places to remember the star wherever they can. On Wednesday, Turner fans went to the Tennessee museum to pay their respects. Some of them had already planned to visit before news of Turner's death broke, while others made a special trip after they found out.
Sherry Raggett and her husband, Tom, had already planned to visit the center as the final stop of a museum tour that took them from their home in the Memphis suburb of Collierville to a few places in Kentucky and Nashville, then back to west Tennessee.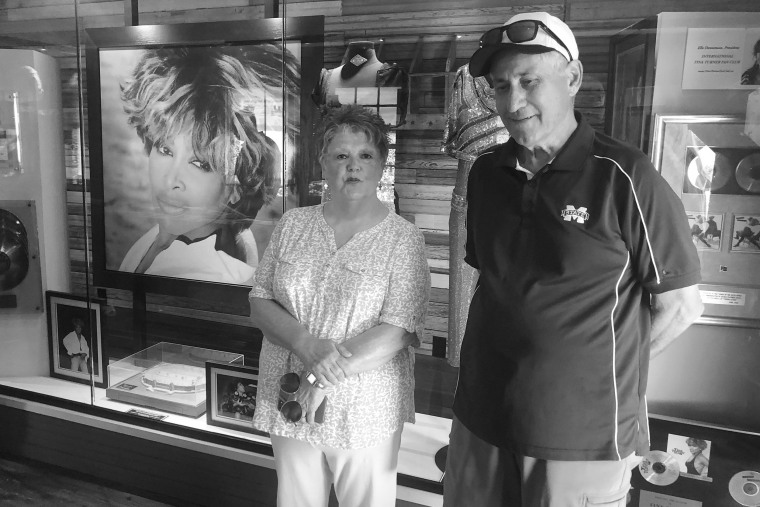 Sherry Raggett called Turner "a wonderful person" and praised her for "her strong influence on women and how they can overcome so many things."
"I grew up listening to her, and she was a fantastic entertainer," Tom Raggett said. "I loved every minute watching her."
The heritage center's director, Sonia Outlaw-Clark, said she met Turner in 2019 in New York during the opening of "Tina: The Tina Turner Musical."
"It was such an honor to be in her presence, but it was also such a feeling of ease," Outlaw-Clark said. "Even though she was an international icon, a superstar, I still felt that she was a hometown girl. It was like meeting a neighbor."
Outlaw-Clark said the center was hoping to honor Turner this weekend during its annual Exit 56 Blues Fest and during another event in September that takes place on the anniversary of the museum's opening.