During a recent White House press briefing, White House Press Secretary Karine Jean-Pierre assured Americans that freeing Wall Street Journal reporter Evan Gershkovich from Russian captivity is a "priority" for President Joe Biden. 
While speaking about the American reporter's detainment in the foreign nation, Jean-Pierre called it "ridiculous" and blasted Moscow's allegations that Gershkovich is a "spy," asserting that he is merely an "independent journalist employed by the Wall Street Journal."
Jean-Pierre's forceful denunciation of Russia's behavior came several days after its government arrested Gershkovich on charges that he was spying on Russia on behalf of the U.S. government.
WALL STREET JOURNAL DEFENDS REPORTER AFTER HE'S ARRESTED BY RUSSIA ON SUSPICION OF ESPIONAGE
As Fox News Digital reported at the end of March, the Russian government's Federal Security Service (FSB) alleged that the journalist was "'trying to obtain secret information' on the activities of one of 'the enterprises of the Russian military-industrial complex.'" 
According to Russian state news agency TASS, Gershkovich will be held in custody until May 29th.
The National Press Club has demanded the reporter's release as soon as possible. In a joint statement, National Press Club president Eileen OReilly and National Press Club Journalism Institute president Gil Klein said, "We consider this an unjust detention and call on the State Department to designate his detention in that manner at once."
PUTIN USING WSJ REPORTER TO PUSH NARRATIVE US IS TRYING TO 'DESTABILIZE' RUSSIA, EXPERTS SAY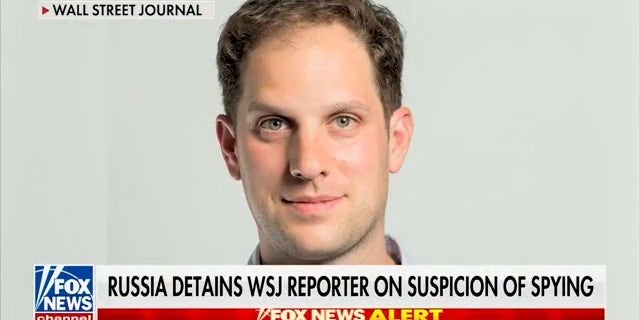 During the Tuesday White House Press briefing, Jean-Pierre claimed, "We're going to continue to call for the release of Evan Gershkovich." She then slammed the charges, saying, "These charges are ridiculous. Evan is not a spy. Evan has never been a spy. Evan has never worked for the U.S. government, and he is an independent journalist employed by the Wall Street Journal, as you all know."
Jean-Pierre then noted that Biden was focusing his efforts on securing the release of Gershkovich, saying, "This is a case that is a priority for this president."
Last week, Biden urged the Russian government to release the U.S. journalist. When asked by reporters what he had to say to Moscow over the detention, Biden sharply replied, "Let him go."
CLICK HERE TO GET THE FOX NEWS APP 
The Wall Street Journal has also condemned the Russian government over the arrest. WSJ senior communications manager Caitlyn Reuss wrote, "The Wall Street Journal vehemently denies the allegations from the FSB and seeks the immediate release of our trusted and dedicated reporter, Evan Gershkovich. We stand in solidarity with Evan and his family."