Orlando Magic forward Jonathan Isaac is preparing for the start of the 2023-24 NBA season, his seventh since being drafted sixth overall in the 2017 NBA Draft. 
His NBA career has been anything but easy. Isaac has dealt with a major knee injury, forcing him to sit out two seasons from 2020-2022. 
Isaac, now healthy, has also dealt with challenges away from the court, making headlines for his decision to stand during the national anthem in the NBA's Orlando "bubble" and publicly defending his decision not to get a COVID-19 vaccine. 
Isaac detailed both decisions in a recent interview with former University of Kentucky swimmer Riley Gaines on the "Gaines for Girls" OutKick podcast. 
SAME FACE, NEW PLACE AS NBA SEASON KICKS OFF
"For me, that was kind of the highlight of my early career of being in the NBA, was 2020. It was after the tragic death of George Floyd, and we were ushered into the NBA 'bubble,' where there was just so much pressure. Not even just in the bubble, but just around the world with the rise of the Black Lives Matter organization and movement," Isaac told Gaines when discussing his decision to stand while his teammates kneeled during the anthem. 
The NBA bubble in Orlando opened in July 2020, just over a month after the death of Floyd. 
Most players from all teams in the bubble knelt during the national anthem. Isaac chose to stand and gained national attention for doing so. 
"For me, it was simply about offering another solution. I saw the issue. I saw the problem. I saw what happened to George Floyd. And as I listened to the tone and the rhetoric of the Black Lives Matter organization and movement, I never truly felt comfortable," Isaac added. 
He described to Gaines the moment he told his Magic teammates he would not be kneeling during the anthem.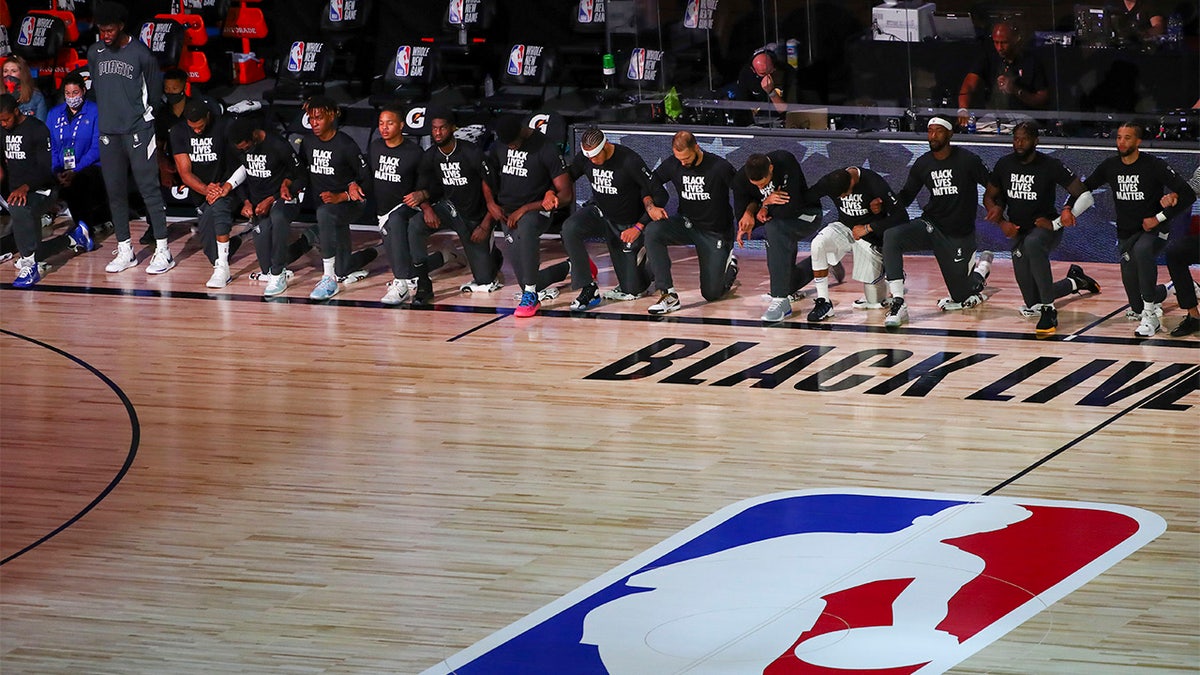 "Getting into the bubble, I'm faced with this moment of being with my teammates the day before I decided to stand, and we're having this team-only meeting, and they're saying, 'We don't have a choice. A team already knelt the day before. We're just going to go along with it and everybody be happy.'" Isaac said. "And one of my teammates turned towards me and says, 'What are you going to do?'
"And I said, 'Fellas, I'm not going to kneel, and I'm not going to wear that T-shirt. Simply because I have another solution. I don't believe that kneeling for the national anthem or wearing a T-shirt is the same thing as saying that we support Black lives. They're not synonymous. 
"I believe that the ultimate answer is that if White and Black people collectively can choose to love each other in spite of the differences, in spite of the fallouts, in spite of the sins of each other, then we could have true change. Because we all fall short of God's glory. We've all done wrong, and it's easy to point the finger at somebody when their wrong is displayed. But if ours were, how would we want to be handled?'"
Isaac said he spoke with his pastor about what he would face for choosing to stand, even expressing worries about his future in the NBA.
CLICK HERE FOR MORE SPORTS COVERAGE ON FOXNEWS.COM
"And he said to me, 'Jonathan, you cannot stand for God, and God not stand for you.' And that was kind of the mic-drop moment of 'I'm going through with this. I'm going to trust God,'" Isaac said. "I know that it's not about me wanting the spotlight. It's not about me wanting fame. It would be easier for me to just go along with what everybody is doing."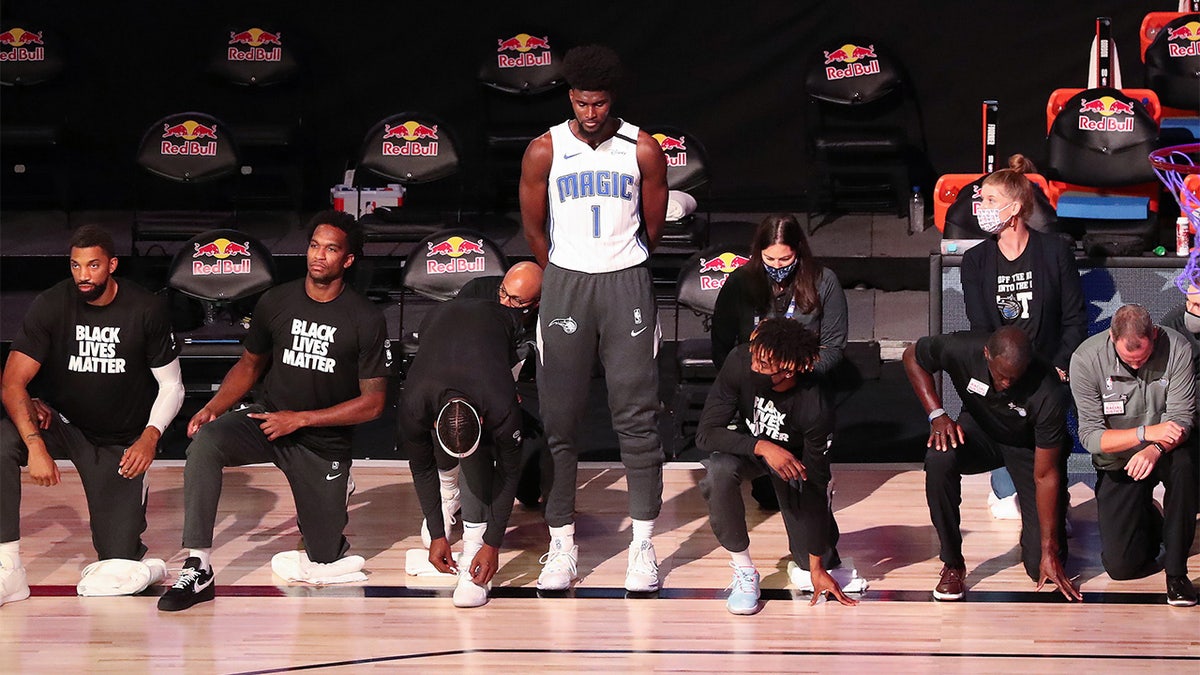 "So, I went through with it. I stood," he added. "There was a ton of backlash and fallout, but at the end of the day, there was so much positivity and people understanding why I did what I did. And believers as well coming together and saying, 'This is the message that needs to be resounded.' 
"It's not saying that Black lives don't matter. It's not saying that what happened to George Floyd wasn't wrong. It's saying that this is the unifying message that can actually bring people together. And also that racism is not the only thing that plagues our society. We all fall short. We've all done things that are wrong. And, again, if we are going to throw stones at a person or an entire race, for that matter, we're throwing stones from a glass house."
CLICK HERE TO GET THE FOX NEWS APP
Isaac also took a stand against COVID-19 vaccines, which were strongly being pushed by the NBA and the world at large, prior to the start of the 2021-22 NBA season.
"I felt like I had a great understanding of the science," Isaac said when explaining his decision. "I had already had COVID in the past. I was speaking to doctors regularly about just the growing science around COVID, natural immunity, all these different things. 
"And then just the hostility in which people were being ushered to act in when it came to the unvaccinated. It was just something that was completely mind-boggling to me."
The Magic opened the NBA season against the Houston Rockets Wednesday night.