A Houston, Texas, school district employee was arrested over the weekend after he allegedly smuggled four illegal immigrants into the country.
The Kinney County Sheriff's Office said Brandan Alexis Gracia was charged with four counts of felony smuggling.
Law enforcement officers from the "Galveston crew" pulled Gracia over in Kinney County, as he was heading east toward Houston near Standard Lane on Las Moras Road.
TEXAS DEPUTIES ARREST FOUR HUMAN SMUGGLING; ONE ALLEGEDLY PUNCHES SELF IN THE FACE TO BLAME MIGRANTS
A spokesman for the Kinney County Sheriff's Office said the area Gracia was stopped is notorious for catching smugglers, as there is a train line nearby that many illegal immigrants will ride.
When officers searched the vehicle, four illegal immigrants were found inside, including two women who appeared young.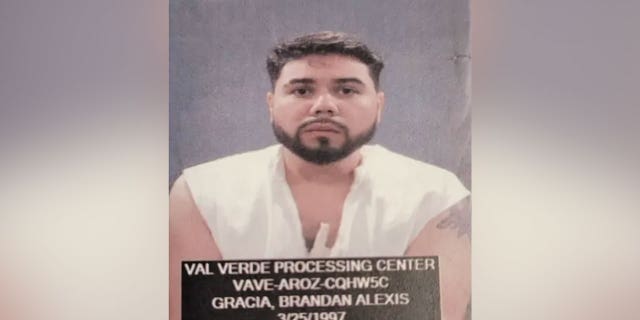 The spokesman said young women are often misled by the cartels that they would have common jobs like housekeeping and waitressing when they arrive in the U.S.
TEXAS SHERIFF TELLS CONGRESS COUNTY 'UNDER SIEGE' AS DEPARTMENT SHARES MIGRANT SMUGGLING CASES
But when they arrive, they oftentimes wind up getting forced into prostitution, the spokesman added.
Officers also found a school ID card from Patrick Henry Middle School in the Houston Independent School District.
An official with the district confirmed on Thursday that Gracia is an active employee with the district, though requests regarding what type of role he has and how long he has worked for the district were deferred to the public information office.
The public information office did not immediately respond to additional inquiries.
Gracia was transported to the Valverde County tent city to be processed.
According to the spokesman, he has since been released on bond.