The United States said Monday that it would defend the Philippines against potential threats under a decades-old treaty after Chinese ships blocked and collided with two Filipino vessels in the South China Sea.
The U.S. and other allies expressed alarm over the Chinese action off Second Thomas Shoal, and Washington specifically renewed a warning that it is obligated to defend the Philippines under a 1951 Mutual Defense Treaty if Filipino armed forces, ships or aircraft come under an armed attack, including "those of its coast guard — anywhere in the South China Sea."
"The United States stands with our Philippine allies in the face of the People's Republic of China coast guard and maritime militia's dangerous and unlawful actions obstructing an October 22 Philippine resupply mission to Second Thomas Shoal," the State Department said in a statement issued by its embassy in Manila.
The State Department blamed Chinese ships for the collisions and said China likely "violated international law by intentionally interfering with the Philippine vessels' exercise of high seas freedom of navigation."
STATE DEPARTMENT OFFICIAL CALLS IT QUITS AFTER BIDEN SAYS US WILL SUPPORT ISRAEL: 'POLICY DISAGREEMENT'
In May, Secretary of Defense Lloyd J. Austin III and Philippine Secretary of the Department of National Defense Carlito Galvez established the "Bilateral Defense Guidelines" and reaffirmed that "an armed attack in the Pacific, including anywhere in the South China Sea, on either of their public vessels, aircraft, or armed forces – which includes their Coast Guards – would invoke mutual defense commitments under Articles IV and V of the 1951 U.S.-Philippines Mutual Defense Treaty," the State Department said.
Washington has deployed forces to the disputed sea to patrol the waters and promote freedom of navigation. The move has angered Beijing, which has warned the U.S. to stop meddling.
On Sunday, about five Chinese coast guard ships, eight accompanying vessels and two navy ships formed a blockade to prevent two Philippine coast guard ships and two boats from delivering food and other supplies to Filipino forces stationed at Second Thomas Shoal aboard a marooned navy ship, Philippine Coast Guard Commodore Jay Tarriela said.
CHINA INCREASING NUCLEAR ARSENAL AT EXPONENTIAL RATE, EXPECTED TO DOUBLE BY 2030, PENTAGON REPORT SAYS
During the standoff, one of the Philippine coast guard ships and a supply boat were separately hit by a Chinese coast guard ship and a vessel, Tarriela said.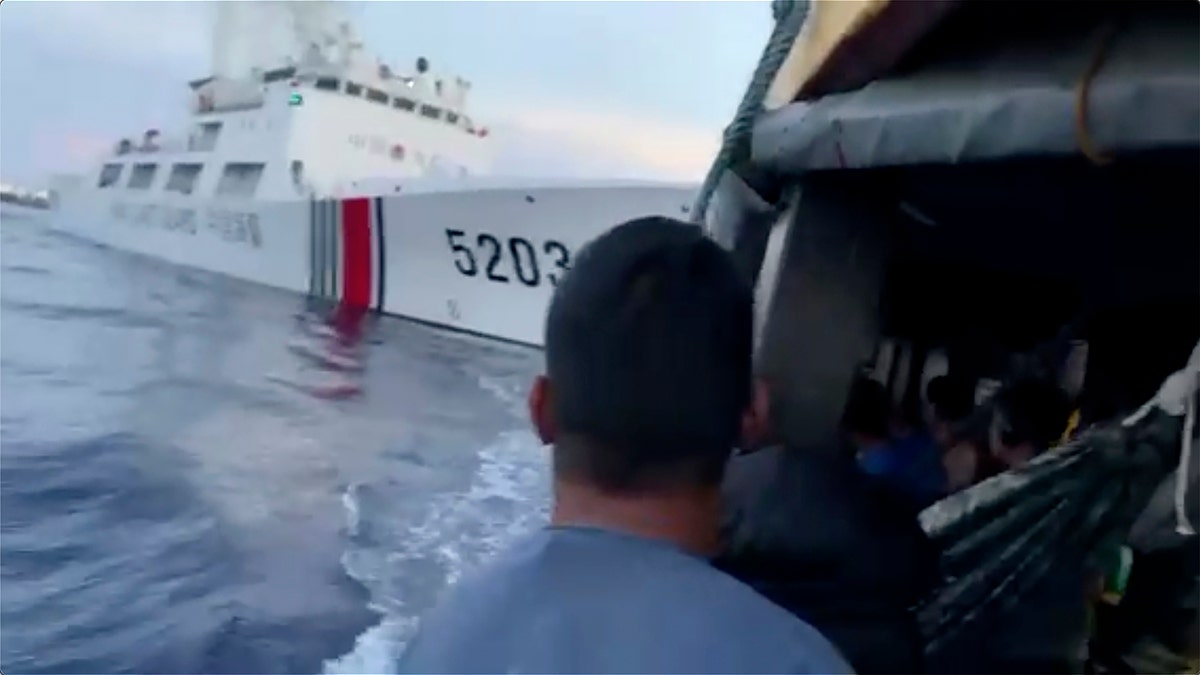 The Chinese coast guard on Sunday blamed the Philippine vessels for causing the collisions.
"China once again urges the Philippines to take seriously China's grave concerns, honor its promise, stop making provocations at sea, stop making dangerous moves, stop groundlessly attacking and slandering China, and to tow away the illegally 'grounded' warship as soon as possible," Zhou Zhiyong was quoted as saying by the Chinese Embassy in Manila.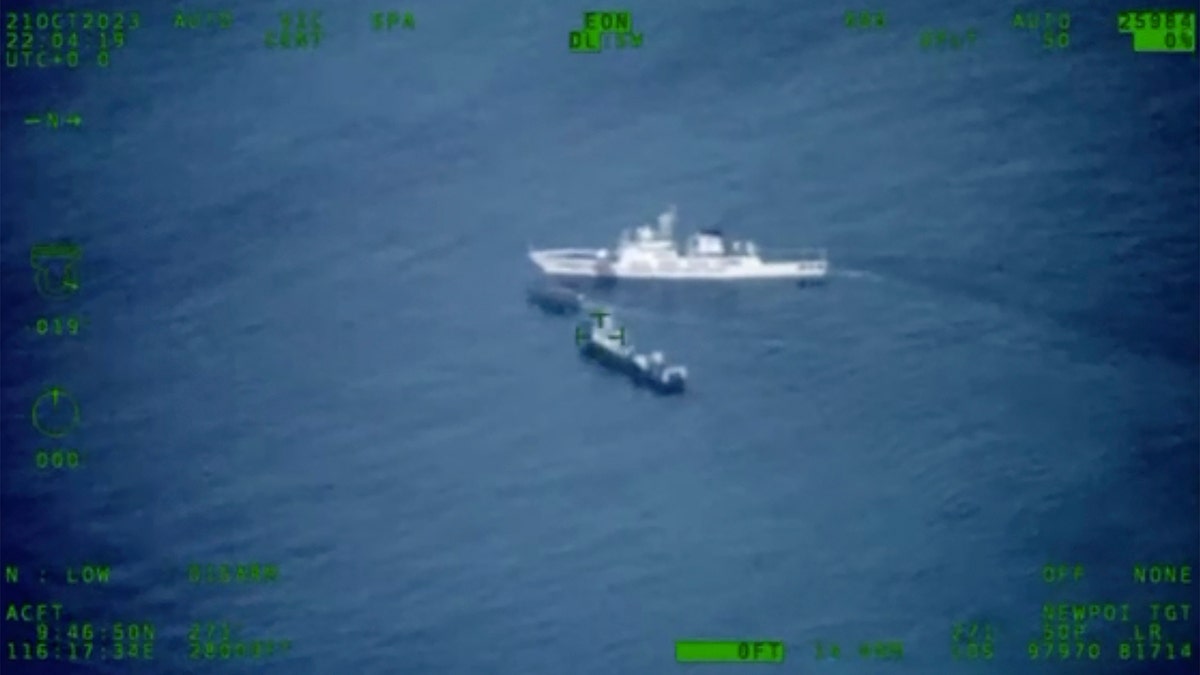 On Monday, Philippine diplomats summoned a Chinese Embassy official in Manila for a strongly-worded protest following Sunday's collisions. No injuries were reported, but the encounters damaged a Philippine coast guard ship and a wooden-hulled supply boat operated by navy personnel, officials said.
The collisions also prompted Philippine President Ferdinand Marcos Jr. to call an emergency meeting with the defense secretary and other top military and security officials to discuss the latest hostilities in the disputed waters.
After the meeting, Defense Secretary Gilberto Teodoro blasted China in a news conference for resorting to "brute force" in the region. He also said China's "aggression" endangered Filipino crew members.
CHINA FLIES MORE THAN 150 MILITARY PLANES TOWARD TAIWAN AS ISLAND CONDEMNS MILITARY 'HARASSMENT'
"The Philippine government views the latest aggression by China as a blatant violation of international law," Teodoro said. "China has no legal right or authority to conduct law enforcement operations in our territorial waters and in our exclusive economic zone."
"We are taking these incidents seriously at the highest levels of government," he continued. "The Chinese government is deliberately obfuscating the truth."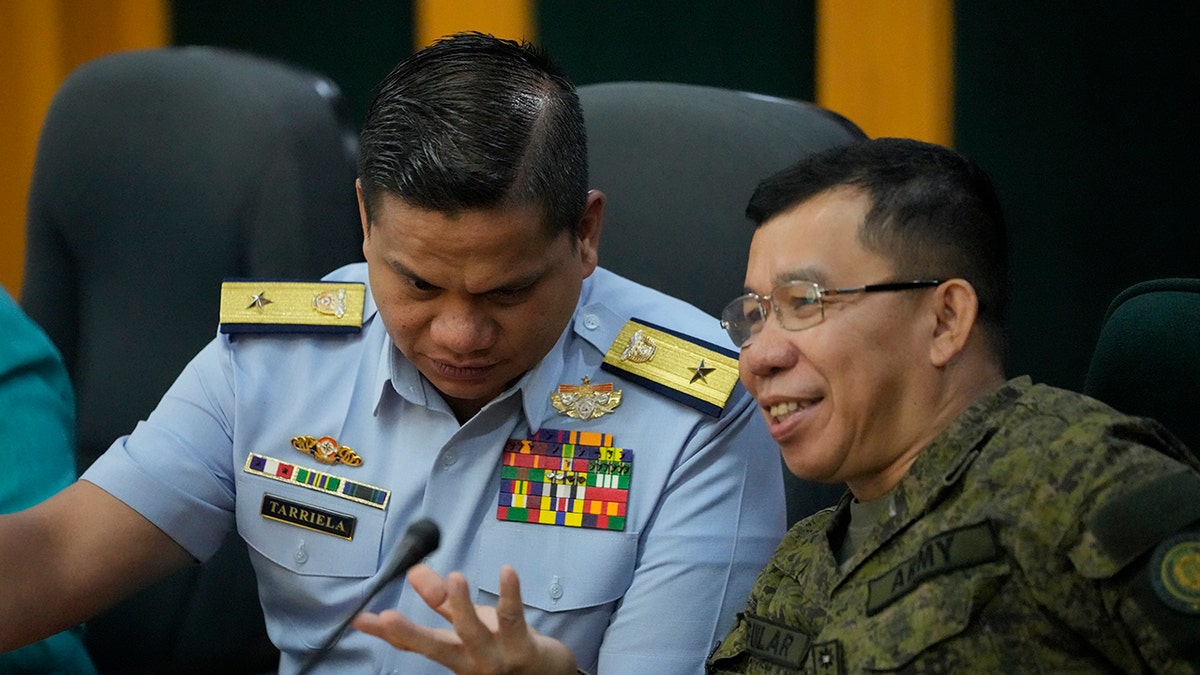 Marcos has ordered an investigation of the high-sea collisions, Teodoro said.
The Filipino leaders also intend to discuss the Chinese ships' dangerous maneuvers during talks between China and the Association of Southeast Asian Nations on a proposed nonaggression pact to prevent a major armed conflict in the South China Sea.
Beijing is hosting the three-day negotiations starting Monday, two Philippine officials told The Associated Press.
Teodoro said it was "very ironic" that China was hosting the talks given their "blatant disregard of international law."
CLICK HERE TO GET THE FOX NEWS APP
The territorial conflicts have involved China, the Philippines, Vietnam, Malaysia, Taiwan and Brunei. The conflicts have been regarded as a flashpoint in the U.S.-China rivalry.
The Associated Press contributed to this report.