An estimated 45% of adults snore occasionally, while a quarter of adults do so regularly, according to Johns Hopkins.
This common issue can affect sleep quality and lead to frequent sleep disruptions — but in some cases, it can be a sign of a serious health issue.
Fox News Digital spoke with Dr. Shelby Harris, a New York-based clinical psychologist and director of sleep health at Sleepopolis, who shared what to know about the topic.
WWII-ERA MILITARY SLEEP METHOD COULD HELP INSOMNIACS NOD OFF QUICKLY, SOME CLAIM: 'PEACE AND CALM'
Here are key points.
What causes most cases of snoring?
Snoring is the result of restricted airflow through the nose or throat, which leads to the vibration of tissues in the upper airway, according to Harris.
"There are various factors that can lead to snoring, such as nasal congestion caused by allergies or a deviated septum, sleeping on your back, alcohol or smoking, obesity, and an obstructed airway," she said.
While snoring can sometimes be harmless and may resolve on its own, it can also indicate a more serious condition, such as obstructive sleep apnea (OSA), the doctor warned. 
SLEEP EASY: 6 WAYS TO ADJUST YOUR BEDROOM SO YOU GET A GOOD NIGHT'S REST
"Sleep apnea often goes undiagnosed, so if you are experiencing snoring or breathing difficulties while sleeping, it's important to get evaluated by a sleep specialist," she said.
Warning signs 
If someone routinely experiences disruptive snoring — which is loud and frequent, disrupts sleep, or leads to daytime fatigue — that can be an indicator of an underlying sleep disorder such as sleep apnea, Harris said.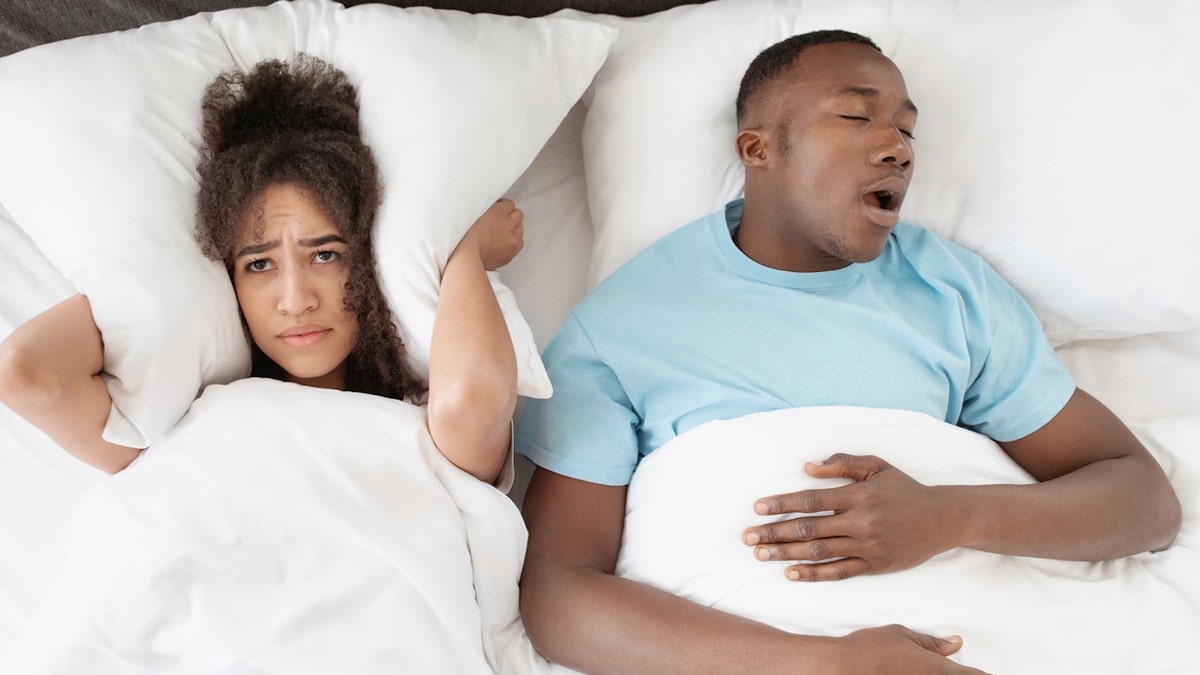 "Also, if snoring is accompanied by pauses in breathing, gasping for air or choking sounds, it could be a sign of OSA," she added.
If snoring is caused by obstructive sleep apnea and goes undiagnosed, it can have significant health risks, Harris noted. 
'SLEEP DIVORCE': WHY ARE SOME COUPLES SPENDING THEIR NIGHTS IN SEPARATE BEDS?
"Risks associated with OSA can include an increased risk of heart disease, stroke, diabetes, high blood pressure and heart attack," the doctor said. 
CLICK HERE TO SIGN UP FOR OUR HEALTH NEWSLETTER
If you experience snoring that interferes with sleep or is accompanied by any of the warning signs listed above, it's important to speak with a sleep specialist, said Harris.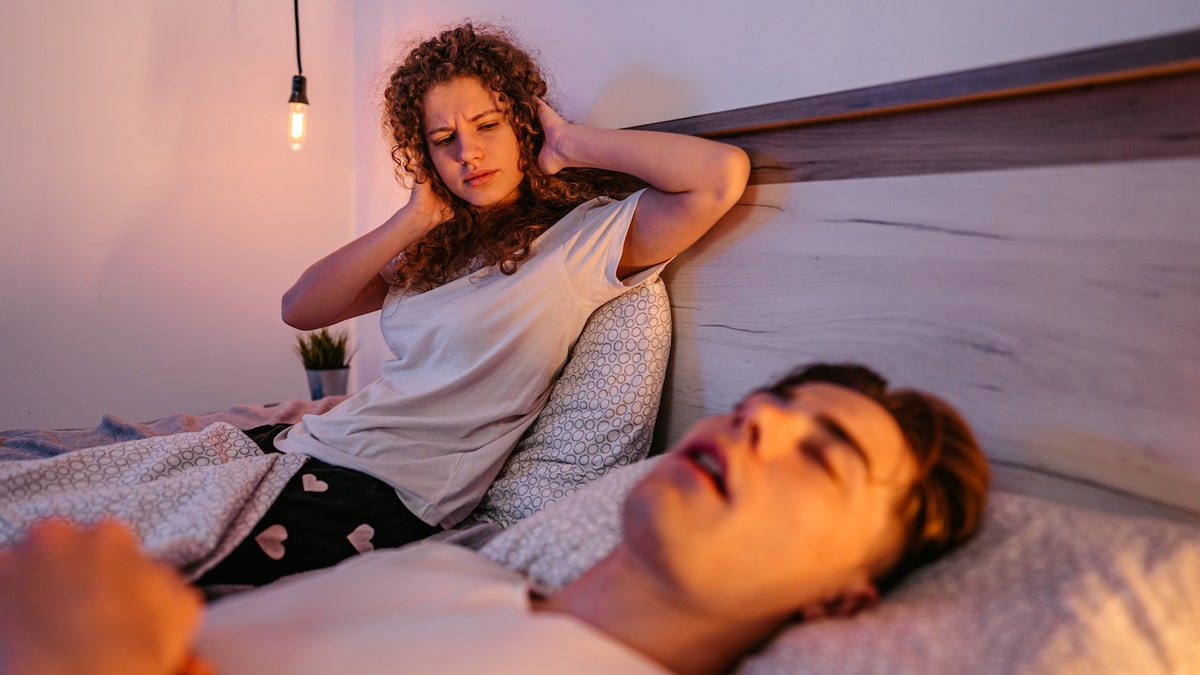 For snoring that is not caused by an underlying condition, such actions as sleeping on your side, elevating your head, avoiding alcohol before bed, maintaining a healthy weight and using a humidifier in your bedroom can help reduce snoring, according to Harris.
CLICK HERE TO GET THE FOX NEWS APP
The doctor also advised against "home remedies," such as mouth taping, which can further restrict airflow and lead to a greater risk of serious health complications.