A NICU nurse makes over 50 Halloween costumes by hand each year so that her tiny patients and their families can enjoy a sense of normalcy during an otherwise difficult time. 
Lilly Fox, a NICU nurse at NewYork-Presbyterian Alexandra Cohen Hospital for Women and Newborns, picks a theme for the costumes and then gets to work constructing them by hand ahead of Halloween. 
When the theme was animals in 2022, Fox made 54 different costumes. 
NICU BABIES CELEBRATE HALLOWEEN IN ADORABLE FASHION
This Halloween 2023 will see the NICU filled with an array of tiny "food" offerings — including a box of popcorn, a strawberry and a burrito. 
Fox hopes to make more costumes than last year. 
"We're calling it 'no tricks, all treats,'" she told Fox News Digital. 
"There is nothing cuter than a baby in a costume — especially a baby dressed up as a piece of food," Fox told Fox News Digital. 
On Halloween, Fox and the other NICU nurses will pass out baby costumes to every family that wants one. 
"We have a cart we set up and we go around to the families," she said. "We show them the different outfits and ask, 'What would you like to be?'"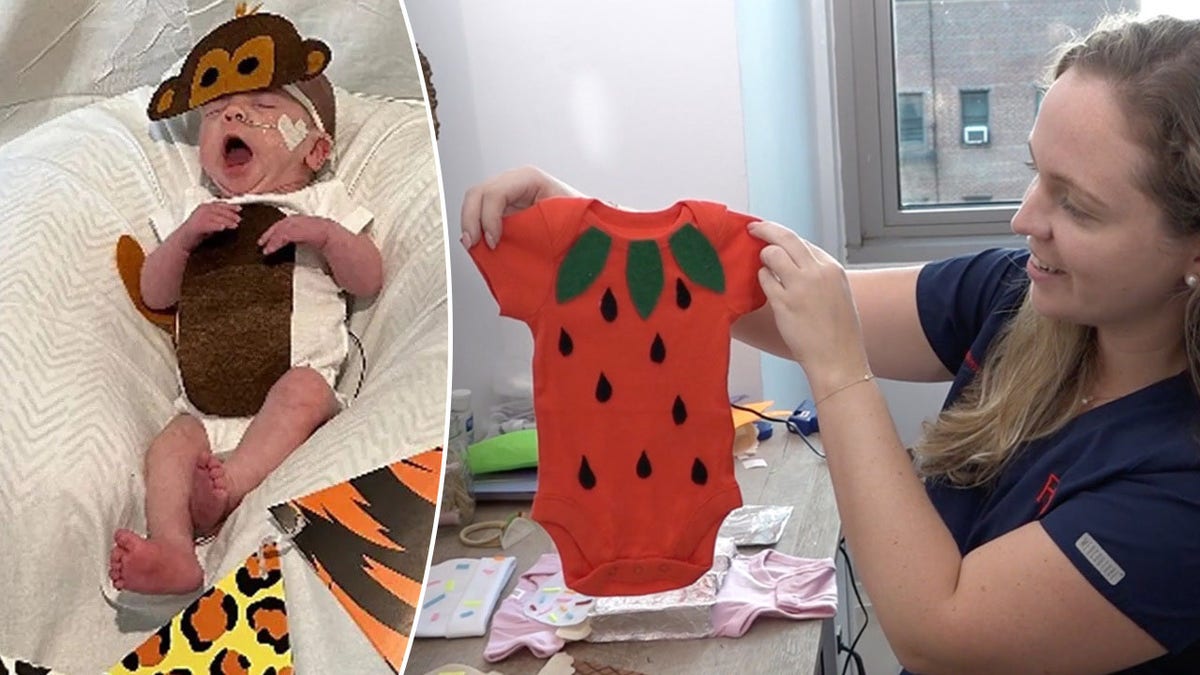 When she crafts the costumes, Fox keeps in mind the different needs of her patients. Some of her patients cannot wear onesies, for example, so their costumes will simply lie on top of them. Most of the babies are able to wear hats or headpieces, she said. 
NICU GRADUATES REUNITED IN SPECIAL SUPERHERO CELEBRATION
The Halloween costumes are "a really great way for families to get to experience the holiday and get to act like any other family with a newborn baby, even if they have to be in the hospital," said Fox. 
"We just try to create some normalcy for them while they're here," she added.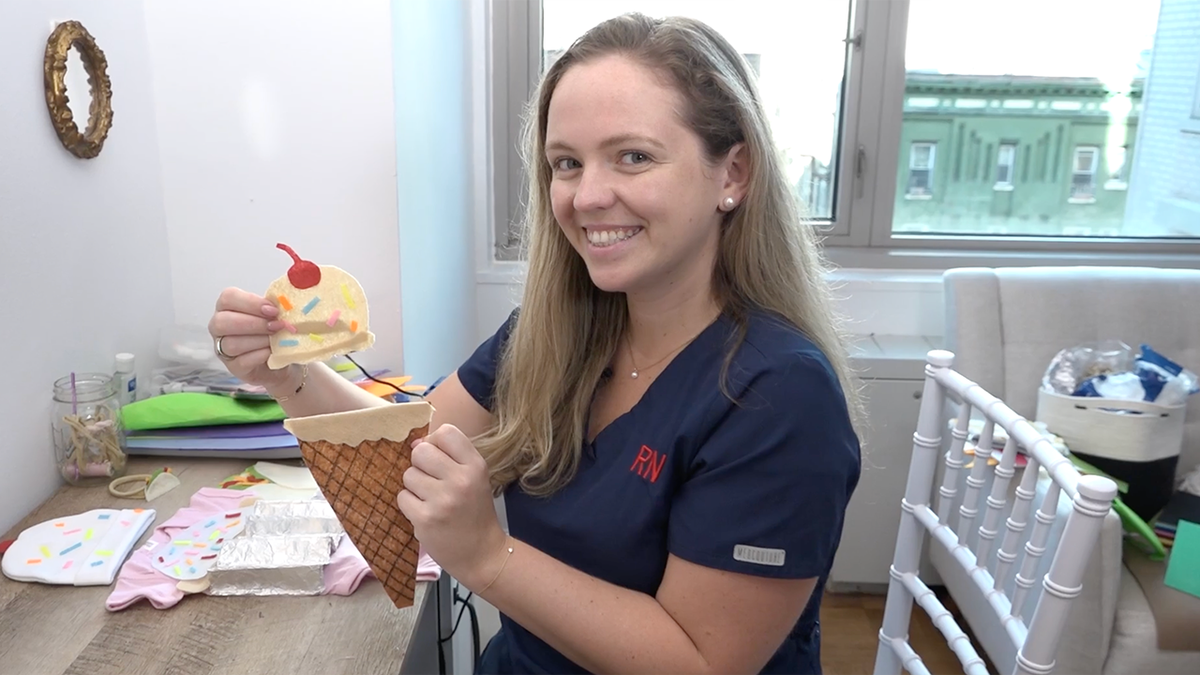 There is also an emotional benefit for the parents of her patients, the nurse told Fox News Digital.
"Being in the NICU can be really isolating for parents," she said. "They don't get to have some of the expected first baby experiences that they would have if they were not in the NICU." 
"That's our goal — to create as much happiness as we can for just one day in the NICU."
With the costumes, Fox said she "really likes that we're able to give that opportunity to parents. We can put aside all the tubes and the wires and kind of look past that and just appreciate all the cuteness of the babies and say, 'It's Halloween.'"
"It will definitely put a smile on their face, even if it's just for a few minutes," she said. "That's our goal — to create as much happiness as we can for just one day in the NICU."
PEDIATRIC EXPERTS GIVE NEW RECOMMENDATIONS TO KEEP SLEEPING BABIES SAFE
Mom Jennifer Tsitsopoulos knows this feeling all too well. 
Last year, her daughter Artemis spent about 4½ months in the NICU after she was born at just 26 weeks gestation. 
"We spent 136 long days, and longer nights, in the NICU," Tsitsopoulos told Fox News Digital in an email. "The first few weeks were the hardest — no one is ever prepared to leave their newborn baby behind."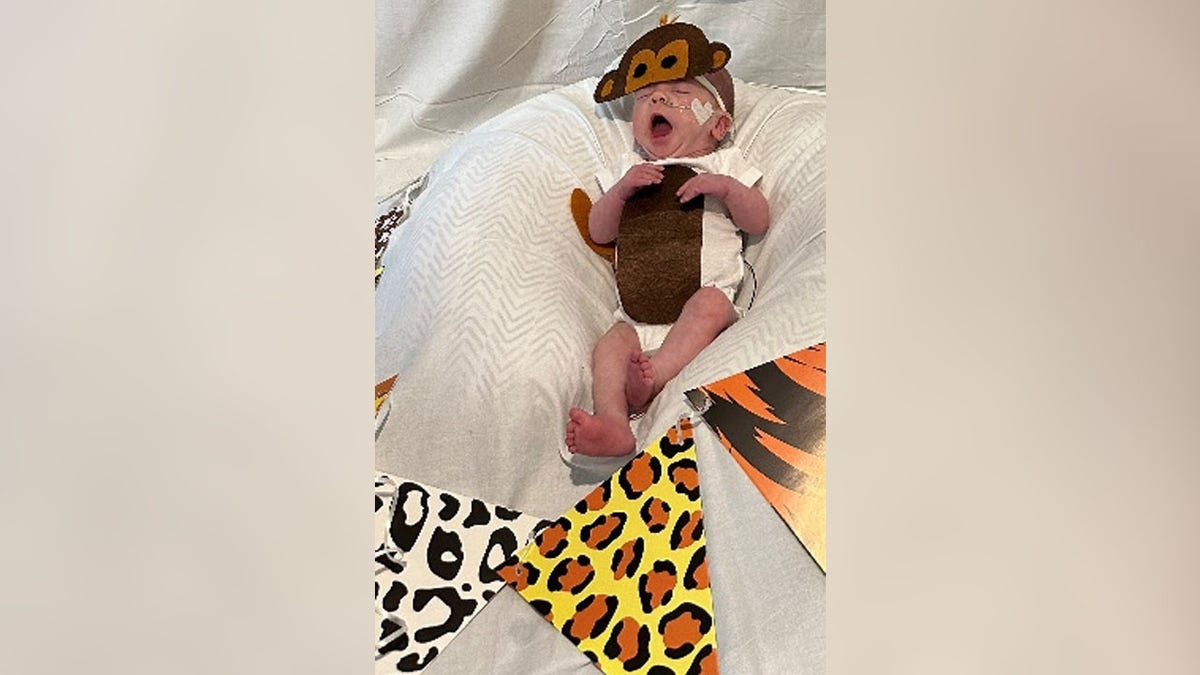 About two months into Artemis' stay, Tsitsopoulos met Fox. 
"I had been hearing rumors about a nurse who was going above and beyond to handcraft dozens of Halloween costumes for the babies of the NICU," she said. 
CLICK HERE TO SIGN UP FOR OUR LIFESTYLE NEWSLETTER
With a child as premature as Artemis, it "means you miss out on the traditional milestones of pregnancy, like having a baby shower or holding your child post-birth," Tsitsopoulos told Fox News Digital.
"Nurse Lilly [gave] us a moment of normalcy by allowing us to celebrate our first Halloween together, just like any family would," she said. 
CLICK HERE TO GET THE FOX NEWS APP
"We will always be grateful to her for giving us a chance to create some truly special memories and forget about all the tubes, alarms and incubators surrounding us," the mom also wrote.