ISLAMABAD: Faheem Ashraf, who is in Islamabad United of the Pakistan Super League's (PSL) eighth edition, feels that overpowering the fear of failure is one of the key reasons for his team's success in the tournament. 
In a conversation with Geo News, Faheem said that when a player is empowered to play his natural game the way he wants, then it is very much likely that his performance will produce great results for the team.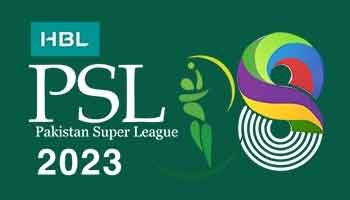 "In United's squad, we are not afraid of losing a match, we don't think about any consequences of losing a match, we are only focused on winning – nothing else," Faheem said.
"When you think about things like what will happen if I am not successful then it will not allow you to try new things or adopt anything out of the box which could have helped you," the all-rounder said.
Islamabad United is the only team to win the PSL twice and is known for its aggressive brand of cricket. However, Faheem believes that the team plays "aggressive and smart cricket".
"The captain and the team management have told us to express ourselves in our natural way and when you have such freedom to express yourself, you feel confident while playing your game," Faheem added.
United is currently placed in the third position on the points table with 8 points from 6 games and they will face Quetta Gladiators on Sunday (today). Gladiators are currently at bottom of the table.
Faheem has warned against complacency in the match against Quetta saying that the team is capable of fighting back and they can't take Sarfaraz Ahmed's side lightly.
Talking about his teammate Azam Khan, Faheem said that it's a blessing that he is sharing the dressing room with the player as it saves him from bowling to the aggressive batter in a match.
"I am glad that I don't have to do bowling against him. He is in superb form. It is a treat to watch him bat when you're at the other end or sitting in the dugout," he said.
Replying to a question, Faheem said that he aims to make a comeback in the Pakistan team through his performance in the PSL.
Talking about his innings of 41-off-32 against Karachi Kings on Friday, Faheem said that it was the team's requirement and he adopted the strategy which is against his own nature.
"I usually prefer to opt for scoring 60 or 70 when I face 30 deliveries but it was my team's requirement so I had to play according to that plan, I am glad that I was able to contribute to my team's success," he concluded.